RV Line – Rhodium Front Surface Mirrors
Remarkably Reflective. Incredibly Thin.
Metron® Dental Mirrors are each hand-crafted and polished to prevent chipping. We have the World's smallest, thinnest, strongest, patented mirrors on the market. Bar None!!!!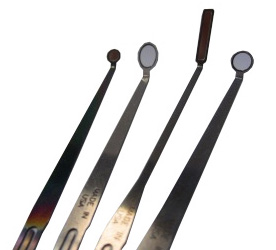 Metron® DentalRV
Rhodium-Coated Front Surface Mirrors
Metron® DentalRV is our line of Rhodium-coated Front Surface Mirrors. They offer great quality at a great price. They are made in the US like all of our products and come standard with a stainless steel shaft and stainless, telescopic, reusable handle.
The RV line is ultra-thin and is available in 3 different sizes: