Metron Marker as a Torque Seal, Torque Stripe, Tamper Seal, and Vibration Aid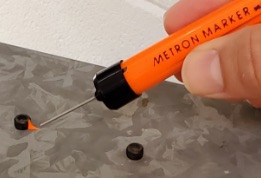 Metron Marker Permanent Ink formula has been used as a torque seal and for torque stripping by the aerospace, medical, and electronics industries for decades. The Metron Marker allows for a precise application and the available fluorescent colors allow for a fast visual check. The formula has a strong hold that will help keep the parts in place and can aid in vibration proofing and can serve as a tamper indicator. The long tip on the Metron Marker allows for easy access into hard to reach areas.
---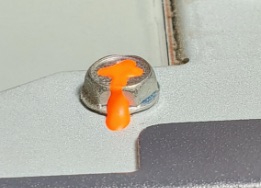 To Use A Tamper Seal
Cover the area that one would use for access, such as the top of the bolt pictured here. The picture here shows a tamper proof seal and a torque stripe.